Do you want to learn SEO but don't know where to start? Read our complete beginner's guide on how to turn SEO basics into success and learn everything you need to know.
With almost 60% of web traffic coming from Google, SEO is a mandatory marketing tactic worth learning about if you have a website. It is complex and ever-changing. But even knowing the basics can certainly help you succeed and get ranked.
In this guide, we will cover all major aspects of SEO, from basic terms and keywords that generate quality traffic to your site, to making your website friendly to search engines, to marketing and building links. Combine this information with some practice and you are on your way to becoming a savvy SEO.
SEO 101: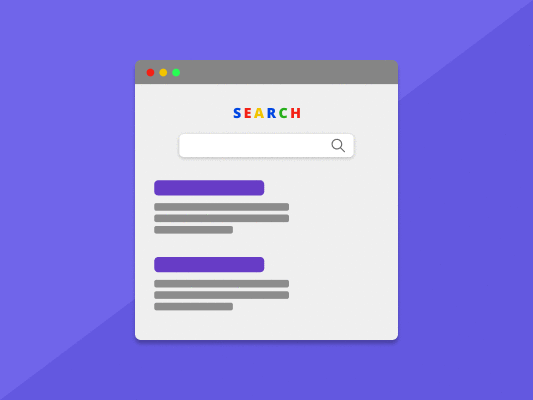 Firstly, let's make sure you understand the absolute basics of SEO, including what it is, why it is important, and the benefits.
What Is SEO?
SEO stands for search engine optimization. At its core, SEO can be described as the process of optimizing a website's visibility, improving its ranking in the search results, and gaining more organic (non-paid) traffic. It is an essential marketing strategy and a fast-paced industry.
Search Engine Marketing is further divided into two parts, namely, SEO and PPC. The key difference between SEO and PPC is that search engine optimization only focuses on organic search results. This means one doesn't pay to be in that space. While pay per click (PPC) advertising is all about paid ads.
In simple words, SEO includes all the actions to make Google consider your website a quality source and rank it higher on search engines.
Core Elements of SEO:
There are two equally important elements of SEO: On-page SEO and Off-page SEO. Both the terms categorize the SEO activities based on whether you perform them on the website or off the website.
On-page SEO includes everything you can do on the website. It is all about building content to improve ranking. This comes down to:
• Keyword Research
• Title tag optimization
• Content Optimization
• Page Performance Optimization
• Internet Linking
The goal of on-page SEO is to provide great content and UX while showing search engines what the page is really about.
Off-page SEO includes the optimization happening off of your website. For instance; earning quality backlinks, building relationships, and creating share-worthy content. Although it's a lot of legwork, it's integral to SEO success. This comes down to:
• Guest blogging
• Broken link building
• Email outreach
Key Takeaway: Always remember that the secret to a successful SEO strategy consists of both on-page and off-page SEO activities.
SEO Strategies: Black Hat Vs. White Hat
Both the terms black hat and white hat have their origin in western movies. They represent the bad guys and good guys. But in SEO, these terms are used to describe two different groups of people. One who adheres to the rules and regulations set out by Google's Webmaster Guidelines and others who don't.
Black Hat SEO includes unethical (or more usually spammy) practices to improve website ranking. Such as link manipulation, hidden text, irrelevant backlinks, keyword stuffing, sneaky redirects, comment spam, etc. All of these techniques can help you get to the top of the search results in a short time. However, search engines are more likely to penalize and ban the website permanently, sooner or later.
White Hat SEO, on the contrary, includes regular SEO techniques; keyword research, natural links, content strategy, well-written content, brand building, and on-page optimization. It is the way to-go to build a sustainable online business. In this long-term strategy, good rankings are a side product of quality content, great optimization, and a user-oriented approach.
Moreover, there is also such a thing as Grey Hat SEO. This means that it is not as pure as the whitest of white hats, but it isn't as manipulative as black hat techniques can be at times. With grey hat SEO, you are not tricking anyone or intentionally game the system. But you are trying to get a distinct advantage. For example, using expired domains, buying links, using private blog networks (PBN), building micro-sites or blogs, and many more.
Why Is SEO Important?
Now, let's answer the most frequently asked question i.e., what makes SEO so important?
People search for the tiniest things. These searches lead to traffic, which can be extremely powerful for businesses. Not only because it is a "lot of traffic" but because it is a very specific, high-intent traffic.
The majority of the website traffic comes from Google's organic results. Or it can also be said that organic search accounts for twice more traffic than all the other traffic sources combined. For this reason, SEO is vital. Mainly because it's an essential marketing strategy of boosting the signal to rank higher in organic search results.
Benefits Of SEO
Being in the top-most ranking is the highly touted benefit of SEO. And as expected, most of the real benefits of SEO are traffic-related.
More Traffic
Most people tend to click one of the first few search results. This is why ranking higher drives more traffic to the website. According to Ahref, these observations are absolutely true. A top-ranking position correlates strongly with the overall traffic to a page. With the help of the right SEO strategy, one can lead more organic traffic to their website.
Advertisements on search engines can be quite expensive. As opposed to paying for ads, search traffic is completely 'free". This means you don't have to spend a single penny to gain traffic. It is all possible by creating great content and best SEO practices, which is usually cheaper compared to paid ads.
Ranking in search engines leads to both passive and consistent traffic. Unlike social media networks which surface fresh content, the number of searches performed on search engines is typically consistent from month to month. The website traffic tends to be both passive and consistent once it ranks.
Steps To Successful SEO:
Crawling, Indexing, and Ranking
Basically, if search engines can't find your website, you'll never show up in the SERPs (Search Engine Results Page), and none of the rest of your work matters.
How do Search Engines work?
Search engines work through three primary functions, that are following:
Crawling
Crawling is a process in which search engines send out a team of robots, more commonly known as crawlers or spiders, to find new and updated content. It can be a webpage, a PDF, an infographic, a video, etc. All of these contents are discovered by links. Googlebot begins by fetching some web pages and then follows the links on those web pages to look for new URLs. This way crawlers are able to find new content and add it to their index called Caffeine, a database of discovered URLs.
As mentioned above, the index is the place where pages are stored in a database after being crawled. Once a crawler finds a page, the search engine renders it exactly as a browser would. In this process, it analyzes the page's content and considers if it's good enough to serve up to searchers. If it is, then all the information is stored in the index.
When a person performs a search, search engines go through their index to find relevant content. Afterward, they order the content in hopes of solving the searcher's query. This process of ordering search results by relevance is known as ranking. Basically, one can assume that the higher a website is ranked, the more relevant the search engine believes that site is to the query.
If you want your content to be found by searchers, make sure it's accessible to crawlers and is indexable. Otherwise, it is simply invisible.
As you may have already heard, "Content is king." Bill Gates made this prediction in the year 1996 and it's true as ever today.
The number one job to do well with SEO is to create high-quality content. There are hundreds of elements that go into creating content that engages the audience. A few of the important elements are:
Quality
There was a time when posting a piece of content with tons of keywords was the standard. But today, the content is much better. Many online businesses have website blogs that they use to add value to their site. And more importantly, to rank higher on Google.
Coming up with quality content is not a child's play. But the good news is, one can achieve that by solving a problem or providing a solution through their content. Simply, add more value, meaning, information, and depth to your content.
Intent
Google puts great emphasis on intent. It aims to understand what the searcher is looking for when they type into the search bar. Are they looking for any sort of information? Or are they trying to buy something? Or are they just window shopping? In order to create content, this needs to be understood as well. This way, you will know what the people are searching for and how you can provide them with the right answer. Always target the right keyword that is relevant to your content.
Freshness
Posting new content more frequently is the only way to signal Google freshness.
There are also a lot of things one can do with already published content to make it more up-to-date. For instance, fix broken links, update any new information for accuracy, and refresh old data with new statistics. This will show Google your piece of content still deserves a spot on page one.
The ultimate strength of keyword research lies in better understanding your target audience. The content creator needs to understand what their audience wants to find and how they are searching for content, services, or products. Once you uncover this, you will start to uncover a whole new world of strategic SEO.
This is where many corners are often cut. Before beginning your keyword research, ask questions. For example; what your audience actually wants and how you can utilize it for what you want to rank for. Focusing on your audience and then using keyword data to improve those insights will make more successful campaigns than focusing on arbitrary keywords. It will help you craft better and more relevant content.
How To Discover Keywords?
Most probably, you may have a few keywords in mind that you want your website to rank for. They can act as great seed keywords for your whole research, so start from there! Enter those keywords into any keyword research tool to discover the average monthly search volume and other related keywords. Few easy-to-use keyword research tools are Google Keyword Planner, Google Trends, SpyFu Keyword Research Tool, and Moz Keyword Explorer. This will help you determine which variations of your keywords are the most popular amongst searchers.
Bonus Tip: Try to target keywords with lower search volume in the beginning as they're far less competitive.
On-site optimization or more commonly known as On-page SEO is the practice of crafting web pages that answer searcher's queries. It extends beyond just content into other things like meta tags, URL length, alt text, image optimization, etc.
Firstly, create content by putting your keyword research into practice. Avoid the following low-value tactics when creating search engine optimized content:
Duplicate content
Thin content
Auto-generated content
Keyword stuffing
Cloaking
Google ranks pages only if it determines they are the best answer to the searcher's question. Your page and its content have to provide value to searchers. For this purpose, use this simple formula for content creation:
Search keywords that you want your page to rank for
Identify which pages are in high ranking for those keywords
Determine their qualities
Create content much better than that
This may require some hard work but will pay dividends in organic traffic.
Other than content, there are more equally important on-page elements that help search engines to understand the content. Including
Header tags
Internal links
Image optimization
Title tags
Meta descriptions
URL structure
Technical SEO
After crafting valuable content, it's important to make sure that it is readable by search engines too!
There is no need to have a deep technical understanding of this concept, but it will be an added advantage to grasp what these technical assets do. It will also help you ensure that your web pages are structured for both humans and crawlers. Because the technical structure of a site makes a huge impact on its performance.
For better understanding, we've divided the basic technical knowledge into three sections:
How Websites Work
SEO is the process of optimizing a website for search. For this purpose, you need to have a basic understanding of what you're optimizing.
Below, we outline the website's journey step-by-step, from domain name purchase to its fully rendered state in a browser.
Domain names like xyz.com are purchased from a domain name registrar such as HostGator or GoDaddy.
A domain name is linked to an IP address because the internet doesn't understand names like xyz.com without the help of domain name servers (DNS).
After this, the user can request a website by typing the domain name into a browser or by clicking on a link to the website.
The browser makes a request to the server for the code your webpage is constructed with, such as JavaScript, HTML, and CSS.
After the server receives the request, it sends the website files directly to be assembled in the searcher's browser.
The browser parses, organizes, and renders the web page, just so that the user can see the website in their browser.
Afterward, the browser makes a final request from the server for any additional codes in order to show a website.
Finally, the website is transformed (rendered) from code to what it appears in the browser.
How Search Engines Understand Websites
Search engine crawlers don't scan down a 10 thousand words article to identify the author and other elements of your content. This is where schema markup jumps in. Schema is a way to organize your content so that search engines have a better understanding of your web page elements. Basically, it allows you to spoon-feed more specific classifications for what type of information is on your webpage.
Schema provides a structure to your data. This process of structuring data is referred to as "markup". Mainly because it marks up the content with organizational code. View the full list of thousands of available schema markups on Schema.org (https://schema.org/).
How Users Interact With Websites
SEO is as much about people as it is about search engines. Google algorithm rewards websites that provide the best user experiences. Once you understand what makes a web browsing experience optimal, you can easily create that experience for maximum search performance.
A few ways to provide the best possible experience to searchers are:
Ensure a positive experience for mobile users with a responsive website.
Improve page speed to reduce visitor frustration.
Improve the experience for an international audience.
Link Building
In order to outrank other websites with your qualities, you have to establish authority by earning links, building your brand, and nurturing an audience who will help boost your content. After content, links are the second most important ranking factor for SEO.
What Are Links?
Inbound links (also known as external links or backlinks) are simply HTML hyperlinks that direct from one website to another. When a high amount of internal links point to a particular page on a site, it provides a signal to Google that the page is important. Only if it's done naturally and not in a spammy way.
Engines use an algorithm to evaluate sites and pages based on the links they find. It all depends on a concept called E-A-T.
What Is The Concept "E-A-T"?
E-A-T is an acronym for expert, authoritative and trustworthy. Google puts a lot of importance on the concept of E-A-T. In simple words, websites that don't display these three characteristics tend to be seen as lower quality. While the ones that do are subsequently rewarded.
To practice SEO, your guiding light should be creating a website that's considered expert, authoritative and trustworthy. This will result in a better and future-proof site. To earn this, you'll need links from websites that already display the qualities of E-A-T.
Link Profile
A link profile is an overall assessment of all the inbound links your website has earned itself: total number of links, their quality, their diversity, and many more. This helps the search engines to understand how your website relates to other websites on the Internet.
The qualities of a healthy link profile are:
Links earned or editorially placed
Link relevant and from similar websites
Descriptive and relevant anchor text
Links that send qualified traffic to your website
Ways To Build High-Quality Backlinks
Link building varies in many sizes and shapes. But it's crucial for your link campaign to match your unique goals.
Some of the popular methods that work well for a majority of the campaigns are:
Guest posting
Find customer and partner links
Get involved in the local community
Create unique resources and build resource pages
Be authentic and genuine
Be newsworthy
Link Building Don'ts
Google has made clear what should be avoided in link building, which are
Purchased links
Reciprocal linking/ link exchanges
Low-quality directory links
Tracking SEO Success
If you can measure something, you can always find ways to improve it. The same goes for SEO. Track everything, from ranking and conversions to lost links. It will help improve the value of SEO.
To begin with, set your primary goal and evaluate which metrics will help support your website to reach its end goal. Measure all the additional benchmarks that can help you keep a better pulse on the current site and its progress.
Engagement Metrics
If you are looking for an answer to how people behave once they reach your site, then engagement metrics are the way to go.
The most popular metrics for measuring how people engage with your content include:
Time on page
Conversion rate
Pages per visit
Bounce rate
Scroll depth
Google Analytics to uncover traffic insights
Keywords Rankings
This includes a website's ranking position for desired keywords. It should also SERP feature data like featured snippets, etc. Moreover, try to avoid vanity metrics. Such as longer tail keywords, and ranking for competitive keywords that are often too vague.
Number Of Backlinks
It includes the total number of links pointing to your website. Along with link building, also look more closely at the quality of backlinks your site has.
Practice Makes The Man Perfect (in SEO)
If you're serious about earning more organic traffic on your website, then make SEO your best friend. There are no shortcuts in this game. You need to do things the right way and go the extra mile to stand out. And the best thing to do to build your skills, abilities, and confidence is to just dive in and get your hands dirty.